Artiste peintre, Sculpteur Irakien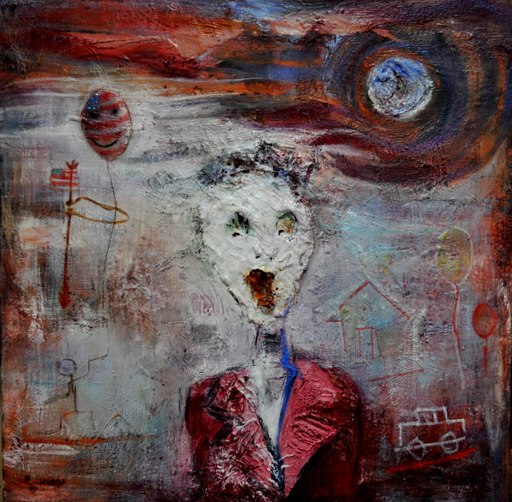 My name is Mohammed al-Kurdi, I was born in Baghdad [Iraq] in 1974. I studied the fine arts / design section 1990-1995. From 1996-1998 I also studied the Academy of Fine Arts / sculpture department three years instead of four years because I was been forced to leave Iraq.
I traveled to many countries where I have had several exhibitions with my paintings. Unfortunately, I have no photos because I had to leave everything to travel light. After 12 years of wandering, I wanted to start over.
Now I have a beautiful life because I got married with a francaise and we have a pretty little girl. We live in Paris.
Paris is the city of the art's for me but I really miss my country especially my city Baghdad . Baghdad was a city of art of the Middle east. I feel truly sad because there is too much war on our planet and because of what happened in my country mainly for petrol and more money. I hate the war I wish that there was no more war.
That's what I want in my paintings: to represent a world of peace... In my paintings, I present my beautiful city Baghdad. I hope one day I can paint what I really feel inside me; coming from deep in my heart my wish: no more war, no more killing, every one living in peace I hope
Thank you for visiting my website
french
Je m'appelle Mohammed al Kurdi, je suis né à Bagdad [Irak] en 1974 . J'ai fait des études aux beaux-arts /section dessin de 1990-1995. De 1996-1998 J'ai fait aussi l'académie des beaux-arts /section sculpture 3 ans au lieu de 4 ans, car j'étais obligé de partir d'Irak . J'ai voyagé dans plusieurs pays ou j'ai exposé mes peintures. malheureusement je n'ai pas de photos, car j'ai du tout laisser sur place, pour voyager léger.
Après 12 ans d'errance, j'ai prit sur moi pour tout recommencer de zéro. Maintenant, j'ai une belle vie, parce que j'ai rencontrer ma femme , nous avons une jolie petite fille. Nous vivons à Paris, car pour moi Paris est le ville de l'art. Mais j'ai perdu mon pays Bagdad qui était la ville de l'art du moyen-orient. Je suis bien triste car il y a trop de guerre sur notre planète, je souhait qu'il n'y ai plus de guerre.
C'est ce que je veut représenter dans mes tableaux: un monde de paix. Dans mes tableaux , je présente ma belle ville de Bagdad. J'espère un jour j'arrive a peintre le tableaux qui ferras battre mon cœur.
Merci aux visiteurs de mon site.